One of my resolutions for 2009 is simply to keep a record of every book I read this year. I like to keep resolutions simple and easy to achieve! These are two recent food-related reads you might want to pick up.


Trail of Crumbs
, by Kim Sunée, chronicles the author's abandonment at three years old in Korea, subsequent adoption by American parents, a childhood in New Orleans, and several adult years spent in various European locales. While I felt that Sunée failed to explore the depth of her feelings of being ostracized and homeless, and tended to skimp on dialogue, the images, emotions, and the sense of setting she creates are powerful. Most importantly, the emphasis on food in this memoir is indespensable. Almost every chapter is followed by a recipe. Her Louisiana days are filled with the Cajun masterpieces of her grandfather, school in Sweden evokes memories of warm winter dinners, her accounts of Paris cafes and luxurious, home-cooked meals in Provence define her time in France, and, in exploring her origins, she turns to Korean cuisine, fumbling through recipes with no heritage behind them.
The account ends abruptly, after several romances have died and Sunée feels a new chapter in her life has begun. As the author is only in her thirties, I find this more acceptable and less jarring than some readers. However, if you prefer resolutions, in any sense, this is a decidedly disappointing read.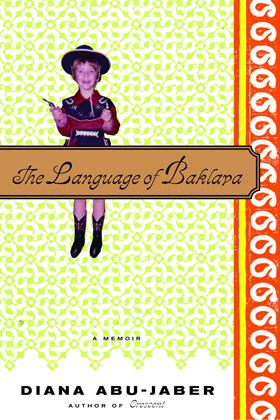 Another, more inspiring food memoir is Diana Abu-Jaber's
The Language of Baklava.
Born to an American mother and a Jordanian father, Abu-Jaber spent her childhood in both countries, and details the influence these experiences, as well as her family members and friends from both cultures, had on her life, gastronomically and otherwise. As with Sunée's memoir,
The Language of Baklava
is punctuated with recipes, ranging across the culinary spectrum. I found I preferred this book, however, for its sense of family as it relates to food, a concept to which I find it infinitely easier to relate.

As a child, Abu-Jaber bakes with her Jordanian aunts, eats the meat her uncles have slaughtered, visits her midwesternly sensible American grandmother, and marvels at the many delights food has to offer. She battles with her father, whose traditional values and longing for Bedouin culture drive him to uproot Abu-Jaber and her family several times. There is a longing for home, for several cultures at once, for a place to call one's own, here, but unlike Sunée, Abu-Jaber finds peace in this tug-of-war, perhaps because she can concretely identify her roots. She somehow resolves, or at least comes to term with, the struggles of her youth and adolescence.


While the majority of my reading is fiction, I've found that lately I'm craving the truth that accompanies memoirs like these; the contents may be adapted to serve a purpose, but there is undisputable reality in the lives of these authors. Unless you're reading James Frey, I guess.

Anyway, I'll keep you updated on any other food memoirs (or other reads) I discover!